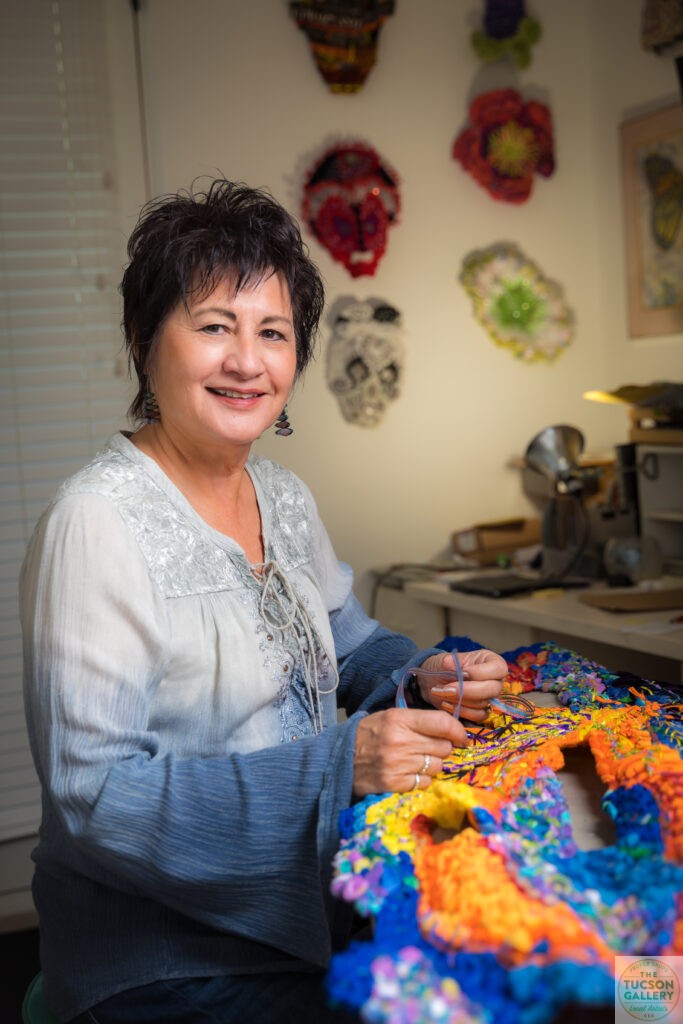 ---
Media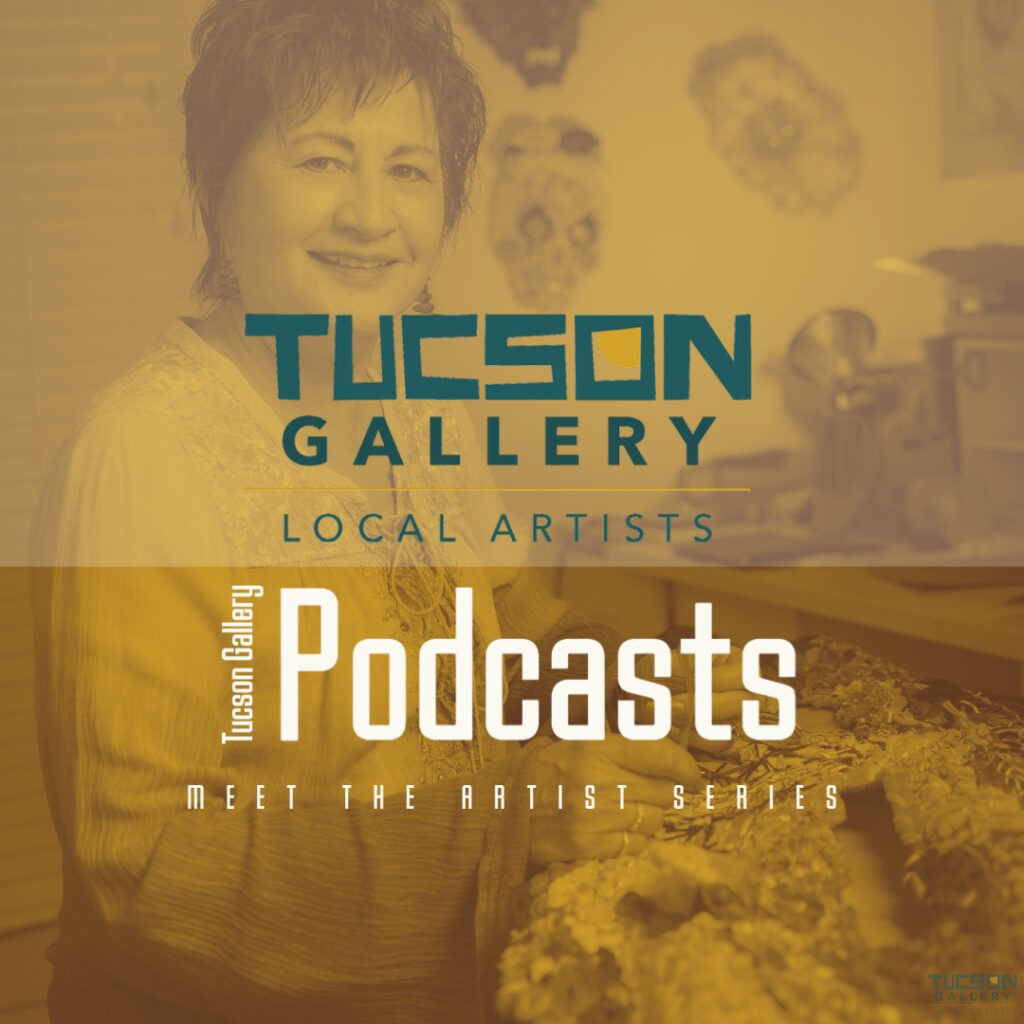 Tamara's Story
Tamara Scott Anderson is a mixed media fiber artist that lives and works in downtown Tucson, Arizona. She earned her Bachelor's and Master's degrees in Art Education at the University of Arizona. After working as an art teacher for several years she transitioned using her art and design skills into the field of interior design. Continuing her education she became a certified and licensed interior designer and spent 28 years in the field. During that time she continued her appreciation of fabrics and textiles, preparing for her launch back into creating art. Retired as a designer she does now work almost full time in her art endeavors.
Her passion for fabrics and textures, led her to the development of her own distinctive form of 3-dimensional, fiber, wall sculptures. The textural compositions and impressionistic, patterning are rich in depth, created with multiple layers of beading and stitching embellishment. Her distinctive technique takes the woven wall sculptures beyond craft into the realm of art. Living in downtown Tucson she began using reclaimed materials collected from the streets to create a different body of work known as her Street Series...
Tamara has built a local reputation for her sculptural fabric wall art, participating in many juried exhibitions. A feature article on her work was published in the February/March 2022 issue of the Phoenix Home and Garden. At that time her story was picked up by Tucson Channel 9 News and a special segment was aired on her work. During that same time a videographer for the city of Tucson produced a documentary segment on Tamara's reclaimed, recycled and repurposed art. https://www.youtube.com/watch?v=2gnYfz3qLks
Tamara's work is currently represented at The Tucson Gallery and the Southern Arizona Artist Guild Gallery.
Tamara Scott Anderson (@urbanartnymph) • Instagram
---
The Tucson Gallery Asked Each Artist The Same Questions To Get To Know Them Better
Where did you grow up?
I grew up in Southern California, Indio to be specific, a low desert compared to Tucson being a high desert. I consider myself a "desert rat" and embrace the heat.
I have been married to my husband, Jerry Anderson (retired), for 40 years. We have a son, Sinclair Anderson, who is a nurse. My daughter, Zoë Anderson, is a media entrepreneur and is one of the creative directors of Cirque Roots, a Tucson circus arts performing group.
Do you have pets, if yes, tell us about them
Our pets include our orange Tabby cat, Big Head, whose head was proportionally big for his body when we first got him. He has since then grown into his head. He loves to help out in my studio. Our little dog, Freeway, is a Sonoran Terrier, who was rescued off the frontage road of Interstate 10. Freeway served as shop dog and store greeter at Contents Interiors for 10 years until we both retired four years ago.
When did you know that you would be an artist?
After graduating high school in Indio, California , I moved to Tucson to attend the University of Arizona to study art. I earned both my Bachelors and Masters of Fine Art in Art Education. I taught in public schools for 4 years when I found my way into the field of interior design. In addition to working in residential design I continued my art and developed my unique fiber sculptures, completing many commission works for my interior design clients. When I became a partner in a furniture showroom and design center, my own art was on hold. Once my retirement plan was put into action I began working on my own art again.
What is your favorite media to work with?
I began working in fiber art during college. Over the years I have explored off loom weaving, spinning, batik, natural and chemical dying processes, felting,basketryand many needle crafts. It was my experience with these various techniques that led me to develop my unique form of fiber wall sculptures. After moving into downtown Tucson I began collecting materials off the streets and out of the washes to use in my wall sculptures.
What do you do when you're not doing the voodoo that you do (Tom's way of asking)? Or, what do you do when you're not doing your art?
When I am not working directly on my own art, I am an active volunteer member in the Fiber Artists of Southern Arizona (FASA) and the Southern Arizona Artist Guild (SAAG). For both these organizations I work to help promote my fellow members. I also enjoy spending time with my family and am extremely blessed that they live in Tucson and seem to enjoy spending time with me and my husband.
All Artworks By Tamara Scott Anderson
These Originals are Sold in the Gallery and Subject to Availability. Please Visit Us at The Gallery for More Information and to See These Amazing Sculptures and More in Person!