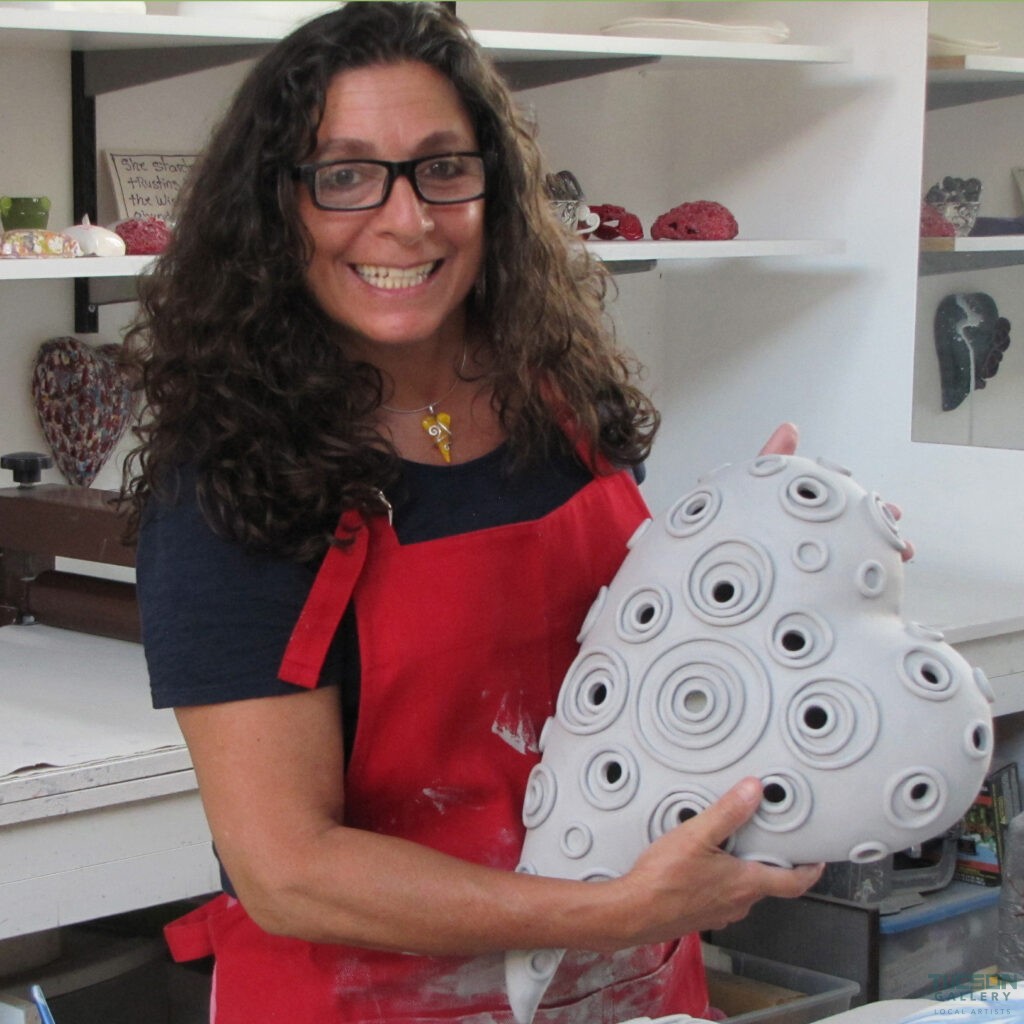 ---
Photo Gallery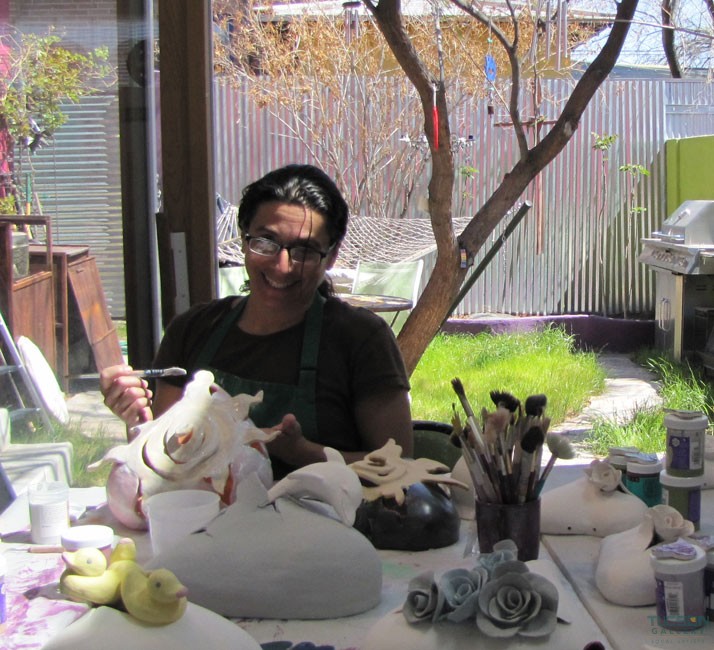 Lisa's Story:
I've had my hands in the clay for decades now but it wasn't until I quit my Computer Consulting Business, serving mostly the non-profit community for 20 years, to attend to my own heart that my Art & Life began to shift in a beautiful, authentic way. Since then, my large & small unique, one-of-a-kind, Ceramic Heart Wall Sculptures have taken on a life of their own.
Today, fleeting moments of intimacy in nature; my experience with the depths of my own being; as well as my great love, compassion, and connection with other sentient beings is what inspires my art. Earthenware clay, a comforting, forgiving, and friendly medium to work with allows me to express genuinely, intricately, and most exquisitely in ways I could not with another medium or words alone.
Invisible forces have always had a hand in my art, as I must hand over each piece to the kiln gods and goddesses, which undoubtedly add to the magic of each piece. Nevertheless, all are designed, hand-built, and painted by me, with low fire colorful glazes, crystal glazes, under-glazes, metallic/luster overgrazes, and anything else I can embellish a piece with to add to the depth, beauty, and uniqueness desiring to be expressed...
---
Tucson Gallery Asked Each Artist The Same Questions To Get To Know Them Better
Where did you grow up?
Officially I grew up in Riverdale in the north Bronx of New York City but I was really raised at Camp Nubar, an Armenian summer camp in upstate New York, not far from Woodstock. Working as a senior lifeguard in my late teens in the south Bronx helped me grow up too.
Tell us about your family?
I was born into a family of 2nd generation Armenians, which means all my grandparents survived the Armenian Genocide of 1915. We are a family of waves riders literally and metaphorically. We not only navigated some atrocious circumstances in life but we thoroughly enjoy life too, especially moments in the great outdoors riding ocean waves, & shredding (skiing) snow-capped mountains. All my grandparents & parents and most uncles & aunts passed on decades ago. Today my true (extended) family has expanded globally and so I now consider myself belong to a family of Rainbow Light Peace Keepers.
Do you have pets, if yes, tell us about them?
For over 20 years I had the pleasure of sharing my home with three kitties who all passed on in the past three years. Betty Diamond, my oldest, came to me from a kitty litter. Mukti (the Sanskrit word for liberation) and Karuna (the Sanskrit word for compassion), feral kitten siblings, were running for their lives in West University Neighborhood until I rescued them but we all know who rescued who. Betty Diamond on the other hand was a Guru in disguise and our connection was uncanny. All three brought immense joy into my life and saw me thru the twists and turns & the highs and lows of life. I adored each of them, and look forward to the next kitty I am blessed with.
When did you know that you would be an artist?
I never knew I would be an artist, I just knew I was a creator from an early age. I was drawing, painting, linoleum block printing, building with papier-mâché, cardboard, wood, and clay early in life. Unfortunately, pursuing art beyond High School was not supported by my dad, although my childhood art teachers recognized my gift and passion, and did there best to encourage me to apply to art schools. My formal education & degrees are in Mathematics & Computer Science, and although my training in ceramics is not considered formal, I have been taught, touched & guided to my heART by many visible & invisible hands.
What is your favorite media to work with?
Hands down low fire earthenware clay is my favorite medium to work with. I absolutely love having my hands in the clay. Clay not only feels good it is a most friendly and forgiving medium to work with before the first firing. Low fire clay bodies allow me to achieve the vibrant colors in my glazes. I also love co-creating with the kiln gods and goddesses who have a hand in every piece. Letting go is a practice but always so exciting when it's time to open my kilns after a glaze firing.
What do you do when you're not doing your art?
If I'm not fixing something around the house or doing office work, I'm enjoying the great outdoors, hiking, biking, skiing, surfing, diving, or kayaking… either solo or with friends in Tucson, or out of town guests. This past year I was teaching skiing on Mt Lemmon because we had three months of snow. I love getting to the Lower Salt River and Patagonia lake to kayak and swim in the summers. Hiking & biking to waterholes with waterfalls in Sabino Canyon never gets old, and neither does the ocean and riding the waves in Encinitas, CA. Diving in Mexico was no comparison to taking my open water dive certification in the Long Island Sound when I was a teenager. Art openings, dancing, time in the yard, and time in the kitchen cooking good meals are some other things I do when I'm not creating in the studio.
Lisa's Artwork
These Originals are Sold in the Gallery and Subject to Availability.  Please Visit Us at The Gallery for More Information and to See These Amazing Sculptures and More in Person!