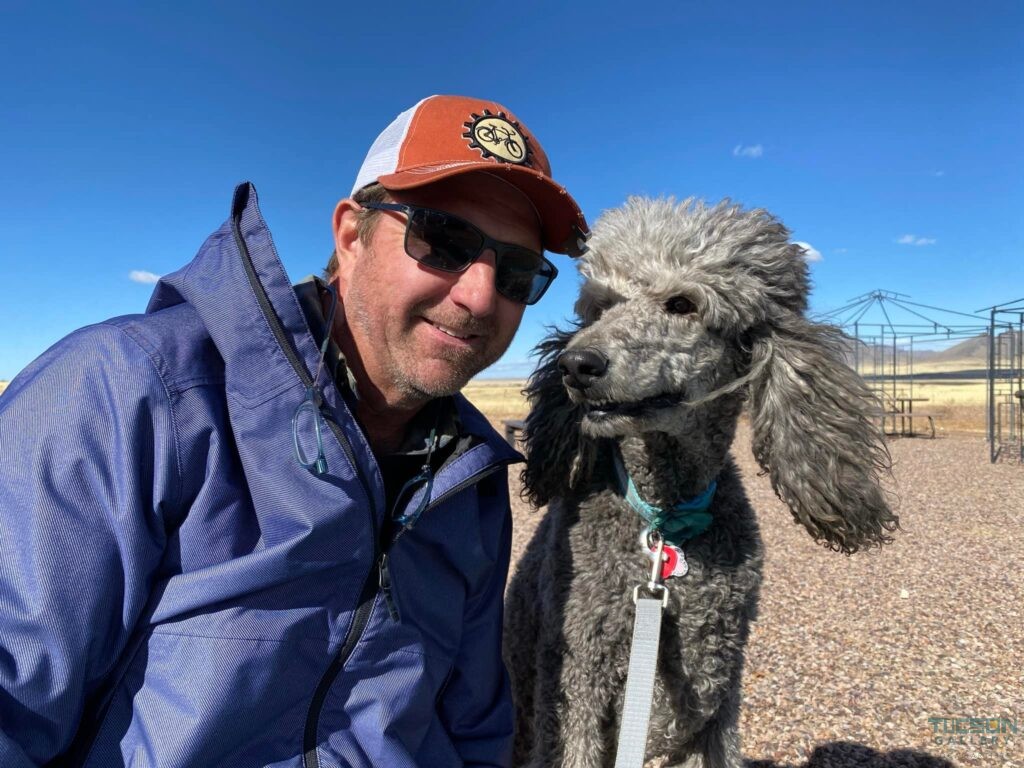 Tom's Story
Thomas T. Fisher was just a young kid when he moved to Tucson with his family in the summer of 1969. He is a professional urban planner and project manager for the City of Tucson working on many large-scale transportation and parks projects for the past 25 years. But this is just half of his story…
Tom has always been a creator of sorts making things out of scrap wood, metal, and discarded materials found in second-hand stores and junkyards. He enjoys repurposing things that innovative industrialists have already designed and finding ways to put them together in an artistic way. Photography is a recent passion.
In his early 20s, Tom displayed his first artistic lighting works in downtown Tucson storefronts and then in a gallery in Dallas, Texas where he was featured on the front cover of Dallas Morning News Magazine. He also designed and sold southwest furniture for a local Tucson retailer and made custom pieces for friends. His design career was put on hold to finish graduate school at the University of Arizona and then begin his urban planning career and raise a family with his wife Nicole.
Over the years, Tom has developed a particular interest in 1900s American industrial design, hence the photos of the old cars and buildings in historic Lowell, Arizona. "I'm not a trained photographer but I do have a good eye for classic design and context for photos. My goal was to capture the iconic shapes and colors on Lowell's main street with the Arizona sky in the background. There is a story to be discovered in the lines, chrome, and dents of old cars. I want to know who designed them and who made them in the factories. And what roads did those cars travel to get to where they are today?"
What's next for Tom? With retirement on the horizon, he has plans to revive his art interests with more photography and lighting works of art. Stay tuned.
---
The Tucson Gallery Asked Each Artist The Same Questions To Get To Know Them Better
Where did you grow up?
I grew up in Tucson where my parents first came here in 1969 to teach at the UofA. We lived close to the campus in the Sam Hughes neighborhood. A few years later, we moved to an old 1930s guest ranch called Las Lomas in the Tucson Mountains where the desert was my playground. In later years, we moved central where I attended Salpointe High School and went off to college in Arizona and western Europe for a few semesters. I grew up around a lot of educators and creative people. Travel was a big part of my upbringing, thanks to my parents.
Tell us about your family
I am married to my best friend Nicole and we have two adult children and a grandchild on the way. Nicole and I first met in 1987 at the Ramada Downtown where she was the front desk clerk and I was the bellman. We lived together in Armory Park for a few years and eventually moved around and figured out our professional careers while raising kids. And 32 years later, here we are. We enjoy renovating and living in older Tucson-style houses.
Do you have pets, if yes, tell us about them
We have four dogs. Wilma is the old lady Chocolate Lab. Izzie and Lucy are high-energy acrobat Standard Poodles. Beau is a young small French poodle. And we have three grand-dogs that often come to visit for family get-togethers.
When did you know that you would be an artist?
When I was 22, I first displayed my artwork in a downtown retail store which happens to be in the same building as The Tucson Gallery. At that time, I had ambitions to be a career artist but needed to make more money as I was tired of living paycheck to paycheck. Within a few years, Nicole and I moved to Dallas where I worked retail and had my lighting works in a gritty gallery and sold everything. I was featured on the front cover of Dallas Morning News Magazine. That gave me confidence in my talents, but I decided to put my art career on hold for the next 30 years to be urban planner and raise a family. I have always been an artist of some sort. No regrets on anything.
What is your favorite media to work with?
Mainly wood, and 1900s industrial metal components and kitchen utensils. This is my inspiration for more artistic lighting sculpture projects. I don't consider myself a very good photographer yet, but I am preparing myself with more digital art training. I like street scenes, buildings, and transportation.
What do you do when you're not doing your art?
My full-time job at the City of Tucson managing parks improvement projects. Work on old houses. Daytrips to southern Arizona for inspiration. Spend time with our kids and dogs. Travel to Europe and take lots of photos, especially Italy. Writing down my art ideas in preparation for DOING my art.