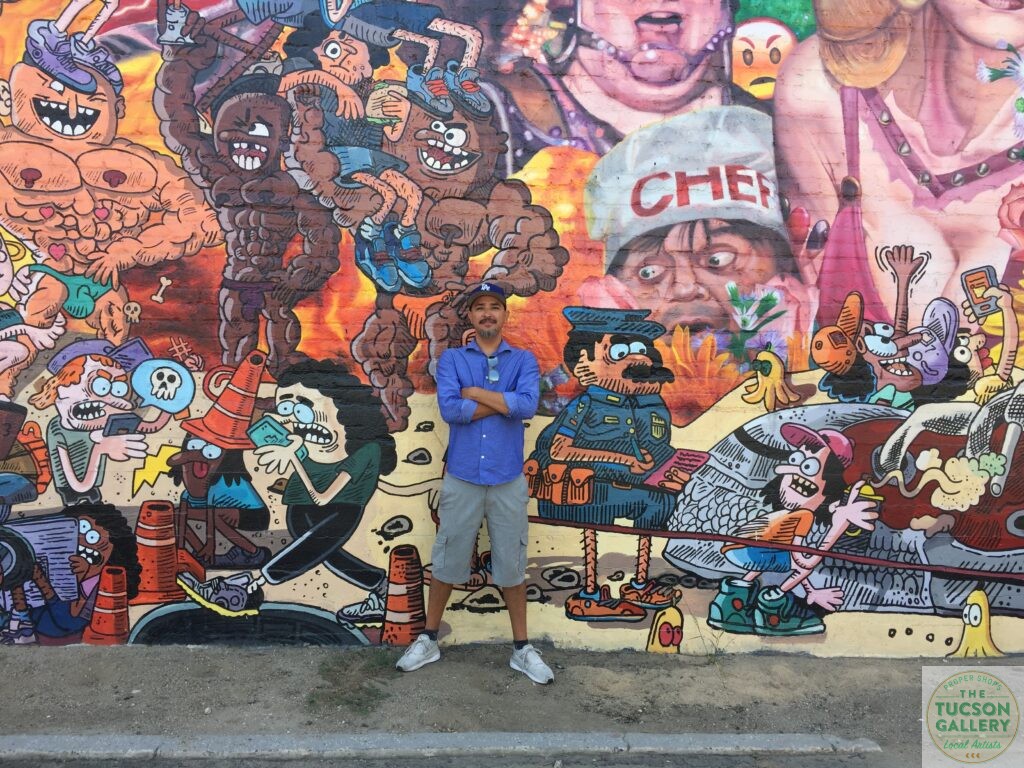 ---
Media
Ignacio's Story
Muralist/Public Artist and 2022 Arizona Artist Leader of the year from the Arizona Capital Times Ignacio Garcia is well known throughout Arizona and throughout the west coast for his 3D chalk art, Large photo-realistic murals like the Empowered Woman in Downtown Tucson and also often plays on whimsical, playful pop art ideas and blending his street art and abstract contributing of the Sonoran lifestyle.
Garcia's artistic studies graduate of East Valley Institute of Technology in Mesa, Arizona as well as the Gnomon Workshop in Hollywood, California. Ignacio offers innovation and unique point of view, a fundamental motivation to his work is to challenge the viewers audience and curiosity. Ignacios craft thrives on the emotional and physical reaction of his works. The research, reflection, and exploration of a topic that precede a finished piece of work are meant to invoke authentic, unpredictable, and organic responses from each member of the audience. Connect with the artist on Instagram @ignacio_garcia_art for purchase inquires contact email [email protected]
Ignacio Garcia
---
The Tucson Gallery Asked Each Artist The Same Questions To Get To Know Them Better
Where did you grow up?
Benson, AZ
Tell us about your family
I have an adorable son, Valente, who is 12. He is my everything. I have a close Hispanic family who mean the world to me. My mother, raised me on her own and taught me the value of family and taught me that working hard is the key to overcoming all obstacles. My upbringing in Benson, gave me a sense of community and independence. I was given the freedom to explore who I am and discover my artistic roots. I am grateful every day for where I come from!…
Do you have pets, if yes, tell us about them
My girlfriend and I adopted the cutest Carin Terrier 2+ years ago from a local rescue. She came from the Mexican side of Nogales, MX. We named her Pilar Garcia. She is a character who cracks us up on a daily basis. She loves people! Everyone who meets her is left with a loving impression of her!
When did you know that you would be an artist?
I knew at a young age I wanted to be an artist (it came and went in waves). I always knew then I could draw. Since then, art has been the part of my life that makes the most sense to me.
What is your favorite media to work with?
Graphic design is my favorite because that medium branches out into all others for me.
What do you do when you're not doing the voodoo that you do (Tom's way of asking)? Or, what do you do when you're not doing your art?
I was a radio DJ in my 20s. I LOVE music. I have a collection of tapes, records, and mixtapes. I also just got myself a DJ turn table. I am having a ton of fun putting new sounds together and gathering classic sound systems from past eras.
All Artworks By Ignacio Garcia